The imam who died fighting racism in South Africa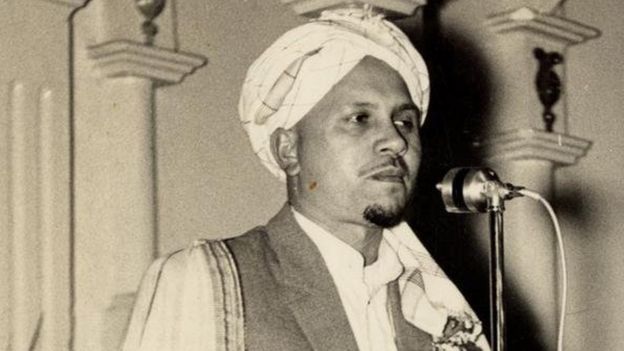 Relatives and friends of an imam who died 50 years ago while opposing racism in South Africa are still traumatised by his death, writes the BBC's Penny Dale.
Two momentous events occurred in Cape Town in South Africa on 29 September 1969.
The first was a huge funeral march - some 40,000 people carried the coffin of Imam Abdullah Haron for about 10km (six miles) to his final resting place in Mowbray Muslim Cemetery.
And at night a rare and massive earthquake shook the earth.
For many who attended the funeral these two events are indelibly connected - they say the death of the pioneering 45-year-old South African imam was so painful and so shocking.
Imam Haron died in a police cell on 27 September, after 123 days of solitary confinement and daily interrogations about his involvement in the struggle against the racist system of apartheid, which ended in 1994 with the election of Nelson Mandela as South Africa's first black president.
Imam Haron was the first cleric of any faith to die in custody under the apartheid regime. His death signalled that even men of God were not safe from an increasingly repressive, white-supremacist state.
The artist named after the imam
His death caused global outrage, and he became the first Muslim to be commemorated at the famous St Paul's Cathedral in London.
The security police said he died after falling down a flight of stairs.
They said the two broken ribs and 27 bruises on Imam Haron's body had nothing to do with them, despite their notoriety for using torture and beatings.
The imam's family say they do not accept "that lie", and are demanding a fresh inquest to mark 50 years of his death.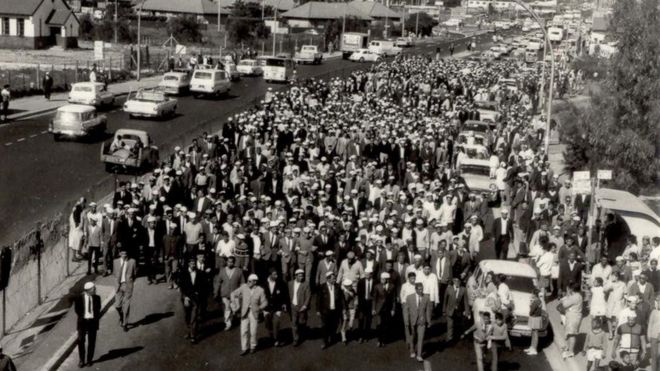 Backing the campaign is visual artist Haroon Gunn-Salie - who is named in honour of the imam and has made several art works memorialising his life and death.
Gunn-Salie's latest work, Crying for Justice, is an installation in the grounds of the Castle of Good Hope in Cape Town - a symbolic burial ground of 118 unmarked graves, one for each of the people who he says died in detention during apartheid, including Imam Haron.
They were all held without trial - and the police said they fell down stairs, slipped in showers, or took it upon themselves to jump out of windows.
'A cry to the courts'
No-one has ever been held responsible for any of those deaths in detention,and it's a sore, open wound for the families.
When finished, viewed from the castle ramparts, the graves Gunn-Salie has dug will spell out the word: Justice?
"The artwork is as much as a cry to the heavens as a cry to the courts," says Gunn-Salie.
"It's a public statement asking, quite literally, to unbury the past, to dig up the files, to dig up the evidence, and bring closure to the families."
Sadly, his 93-year-old widow Galiema Haron died on Sunday, exactly 50 years after her husband's funeral, without achieving closure.
In a tribute to her, governing African National Congress MP Faiez Jacobs said: "Widowed by what appeared to have been a deliberate killing, she raised her children alone, always wondering how her beloved husband had died.
"If the apartheid rulers thought they could kill her spirit, they were wrong. She stood tall, defiant and principled."
Imam Haron was one of the youngest imams in South Africa - only 32 when he was appointed in 1955 to lead the congregation at the Stegmann Road Mosque in Cape Town.
He was a pioneer in Cape Town's mostly conservative mixed-race Muslim community.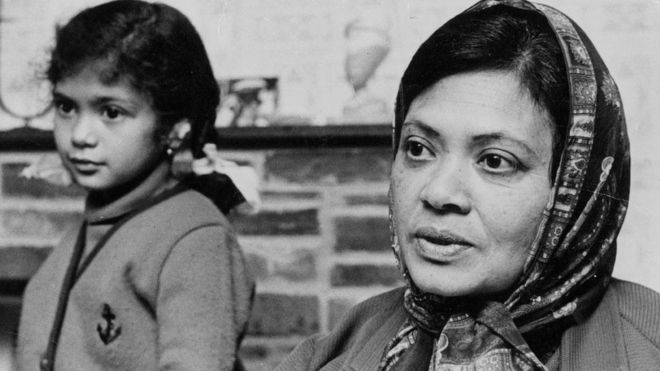 He introduced adult education classes, discussion groups where the topics were chosen by young people and encouraged women to take part. And he invited children to sit at the front of the mosque, rather the back, and to lead prayers.
He also invited people from outside the Muslim community - including trade unionists and liberal politicians - to come and talk to the young people about what was happening in South Africa.
"He didn't fit the pattern of the Muslim clergy which was quite ritualistic," says Aneez Salie, a journalist, former member of the ANC's armed wing and father of the artist Gunn-Salie.
"He was very progressive, away ahead of his time," Mr Salie, who at 13 attended the imam's funeral, told the BBC.